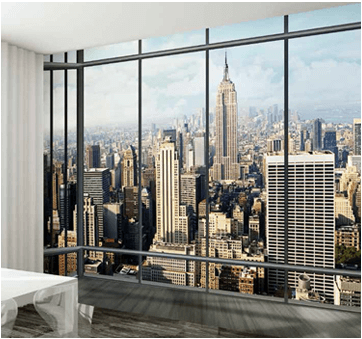 Windows Installed by New Yorkers, for New Yorkers
Living in New York can be noisy at the best of times and extremely noisy at the worst. While we know you love the vibe of the city (who doesn't), we believe that the vibe inside your home or office should not be dictated by what's happening outside. Window inserts are an exceptionally cost and time-effective option for keeping out noise and drafts, helping you create an ideal environment for work or play.
The inserts we trust are Indow Windows. They are lighter and less expensive than some of the other brands on the market you may have seen, and with less than an inch of space required for installation, they are a viable option for any window you might have…. even landmark properties.
Take a look at the various window inserts we offer:
OUR MOST REQUESTED WINDOW INSERTS
Standard Grade: A barrier between you and the elements
If you are looking for a window option for your home or office that:
a) doesn't cost a fortune;
b) doesn't take weeks to install; and
c) is proven safe for landmark buildings, look no further than our Standard Grade inserts. They are our most multi-functional window insert that provides a reliable and cost-effective barrier to the noise and drafts that only a New Yorker could understand. Plus, due to the seamless installation, they can be used on landmark buildings without any outside approval required.
Standard Grade inserts are made out of high quality acrylic glazing and edged with our patented Compression Tube. The tubing squeezes down when pressed inside your window, holding the insert securely in place without a mounting bracket. Every insert is custom made according to precise, laser measured dimensions of your window frames, for a perfect fit, every time. Once installed, Indow inserts seal out cold drafts and hot air, giving you all the comfort and energy efficiency of high-end replacement windows and significantly outperforming them when it comes to noise reduction.
KEY SELLING FEATURE: With minimum disruption to your home or corporate environment, Standard Grade inserts can be placed in any window within minutes to drastically reduce drafts and noise from the outside world.

AcousKc Grade: You don't have to live with the noise
Sleepless in Sea;le? More like Sleepless in New York. While regular windows provide a slight buffer from the noise, they can't compare to our Acoustic window inserts. Acoustic grade inserts dampen noise by 18.9 dBA, that's over 70% window noise reduction, when placed over operable single pane windows. When placed over operable double-pane windows, Acoustic Grade inserts reduce noise by 10 to 12 dBA, equivalent to a 50%+ reduction in noise. Perfect for those in high traffic areas or for those who want to block out the garbage truck at 7a.m.


KEY SELLING FEATURE: Achieve more than 70% noise reduc;on when placed on single pane windows compared with complete window replacements.

Commercial Grade: Durable
Do you have windows that you frequently open or that you need to clean all the time? Indow Commercial Grade window inserts (sometimes called window insulation panels) have an extra abrasion resistant coating to protect against scratching from frequent moving & cleaning. The protective coating allows you to clean your inserts with traditional glass cleaning products rather than acrylic cleaning products.

Museum Grade: Protect what you love
Protect your furniture, carpets, flooring, artwork, pets and people for years to come. Indow Museum Grade inserts provide window UV protection by blocking 98% of all the ultraviolet radiation coming through windows and when tested, showed visually no reducAon in UV filtering performance over a 15-year period. Plus you will gain all of the energy saving, noise dampening, and comfort boosAng benefits of our Standard Grade inserts.

Privacy Grade: Curious neighbours just met their match
Nosey neighbors or just not a fan of curtains? Indow window privacy inserts are made from "obscured" acrylic that looks clouded. They transmit diffused light while obscuring details and shadows. They not only obscure things visually, the ⅛" thick acrylic also reduces noise coming through your windows by 50 percent when placed over single-pane glass. Indow window inserts have the added benefit of reducing or eliminating condensation on single pane windows, which can be a real problem in rooms with excess moisture, such as bathroom or kitchens. Window privacy combined with draft and noise reduction is a major benefit that you don't get with window films.

Shade Grade: Sensitive to light
Shield the searing summer sun from coming through your windows keeping you cooler and more comfortable.while saving on your energy bill. Indow Shade Grade inserts do a be;er job of blocking damaging UV light, sealing out hot drafts and reducing noise compared to low-e glass. Sunlight through a home's windows can dramatically spike temperatures. Shade Grade inserts have a soft green tint and still let in plenty of light while reducing solar heat through your windows by almost 50%.

Sleep Panel Inserts: Blocks out 100% of light
Night-shiP workers, those who live a Paleo lifestyle, parents of young children and others seeking undisturbed sleep can finally get it. Indow Sleep Panels block 100% of the light and more than 50% of the noise coming through your windows. Indow's Sleep Panels are so simple: they just press into place with our patented Compression Tube and can be easily removed to let in natural light. Sleep Panels do more than create a dark, quiet environment. As with all Indow inserts, they also eliminate draPs so your room becomes instantly more comfortable and energy efficient.

Our Alma's Interior Solutions teams custom laser measures every window so the inserts fit precisely. Indow Window inserts are made out of acrylic glazing and edged with a patented Compression Tube, which when pressed inside your window, compressing, holding the insert securely in place while sealing out cold drafts, hot air, and noise.
Noise Reduction: Realize a 50 to 70% Noise Reduction.
Acoustic Indow inserts dampen noise by 18.9 dBA (over 70% window noise reduction), when placed over operable single pane windows. When placed over double-pane windows Acoustic Grade inserts reduce noise by 10 to 12 dBA, equivalent to a 50%+ reduction in noise.
*Note, overall noise reduction performance depends on how much noise is coming through walls, ceilings, floor, and doors. The window noise reduction will be less when Indow inserts are placed over double pane windows.
Many of the buildings in New York are considered historical and anyone who has tried to make a change to a landmark building knows just how hard that can be. The red tape, expense, hassle… all to change a window? We say, no. The benefit of a window insert is that it goes directly on top of the existing window seamlessly providing the noise and draft benefits you want, without the expense and hassle of getting a new window. The perfect choice for busy New Yorkers.
Temperature RegulaKon: Reduce energy use by 20%.
Indow window inserts provide excellent thermal insulation and ultimately save you money on your utility bills. Your Indow windows literally pay for themselves over time. A U.S. Department of Energy study found that installing Indow inserts led to a more than 20% reduction in heating, ventilating and air-conditioning use in a Seattle home. A separate study by Portland State University's Green Building Research Laboratory found similar results. Comparing gas usage before and after installing Indow inserts in four Portland-area homes, the laboratory found heating-energy costs were reduced by an average of 19%.
Indow window inserts have 94% of the insulation of standard doublepane windows. The surface of an acrylic Indow insert is much warmer than the surface of a pane of glass, so you'll feel warmer even if the air temperature in both cases is the same.
While Indow Windows are of the highest quality and look great on their own, you can prime and paint them with standard interior wall paint to match any room.
When it comes to replacing windows, the price tag can be in the tens of thousands of dollars. Indoor Window inserts provides you with the performance of a new window, oftentimes even higher performance), without the price tag. Typically our high quality window inserts are 40% less expensive than replacing the entire window. Investigate for yourself and request a free quote.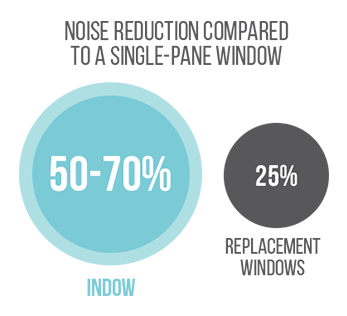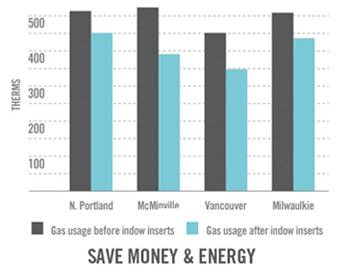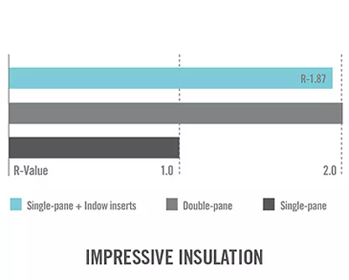 Keep your new window inserts as clear and scratch free as possible allowing you to enjoy an unobstructed view 24-7. Indow Window inserts are made from acrylic sheets and if not cared for properly, will scratch or cloud.
For proper storage and cleaning procedures please follow these simple instructions:
For non-greasy dirt or dust, spraying with water and then wiping with a microfiber cloth will often work best (we do not recommend dry dusting).
To clean greasy stains, use a soft, lint-free, nonabrasive cloth, such as a microfiber towel, and a mild, ammonia and alcohol free cleaner such as diluted dish soap to clean your Indow inserts.
We recommend a diluted mixture of all-purpose castile soap. Suggested ratio: 1/2 tsp. to 16oz of distilled water. Do not use any ammonia, alcohol, or bleach-based cleaners such as Windex, Clorox or 409.
Do not use lemon juice or vinegar.
Do not use paper towels, newspapers or rough cloths. Use only microfiber cleaning cloths.
In some cases, it may be possible to lessen the appearance of scratches by using a plastic polish such as Novus 2 or 3, which can be found at most major hardware stores. Be careful to follow the manufacturer's directions as the incorrect use may damage your Indow insert.
Many Indow inserts can be left in place year round with the occasional removal for cleaning. If you wish to remove at any point, remember that proper storage is recommended to avoid scratches. We recommend either purchasing or making a sleeve in which the insert can be placed. If making your own, remember to avoid abrasive materials and go with something soft and that can easily be secured to avoid any debris from entering. To store, lay them flat on the floor with the largest on the bottom and no more than 3 high to prevent bowing or warping. They can also be stored vertically against each other with a protective barrier between each insert to prevent scratching.
Doing business as Indow ("Indow") provides this Limited Residential Warranty to purchasers who use the product in a non-commercial property, not used for income-generating purposes (our Limited Commercial Warranty maybe viewed at http://go.indowwindows.com/ commercial_warranty). Indow warrants its window inserts against defects of materials or workmanship as long as the purchaser continuously occupies the property for which the window insert was purchased.
This warranty is not transferable.
This warranty does not apply to any Indow window insert which has been subject to accident, acts of God, re, flood, abuse or misuse, abuse by harmful fumes, vapors, solvents, chemicals or chemical pollutants in the atmosphere, mold, building settlement or structural failures of walls or foundations. We do not warrant our glazing against scratching or breakage which can occur if improperly handled. This warranty does not apply to any Indow window insert that has been subject to operating temperatures exceeding 160 degrees Fahrenheit. We do not warrant our acrylic glazing against clouding, yellowing or loss of light transmission caused by dirt, scratching, breakage, or improper cleaning with ammonia or bleach based cleaners.
Indow uses only the highest quality materials in the manufacture of our products. Indow warrants its clear acrylic glazing against a change in light transmission in excess of 3%. This does not cover certain specialty grades that are not clear to start with (including Blackout, Sleep Panels, Privacy and Shade Grades), nor clear acrylic glazing exposed to artificial light sources emittng intense amounts of UVB or higher energy radiation. The Indow compression tubing is made of silicone which resists the effects of heat, cold and ultraviolet exposure.
Condensation is not a product defect, but the result of excess humidity. Condensation, frost, or mold, mildew, or fungus on window surfaces is not covered by the Limited Warranty. Indow bears no responsibility or liability for any situation where molds or other associated conditions arise as a result of improper use, cleaning, sealing, humidication or ventilation.
Indow does not warrant its window inserts against venting excess air pressure. It is part of an Indow window insert's normal function to occasionally relieve excess air pressure by 'popping' a corner or side in response to heavy external winds combined with extreme temperatures or a blower door test. Simply press the window insert back into place to restore normal function.
Window Opening Control Devices
Window Opening Control Devices (WOCDs) are not a substitute for careful supervision of children. WOCDs must be tested at least monthly. Follow all safety information and instructions provided with WOCDs. Indow will not pay for any incidental or consequential damages, and its liability under this warranty, or under any implied warranty, is limited to repairing or replacing (in our sole discretion) any part or parts of the window insert that are found to be defective under the terms of this warranty. We will endeavor to supply original replacement parts; however, replacement parts may differ from the original parts. Warranty repair or replacement of the Indow window insert is free of charge to you. In the case of improper cleaning, storage or maintenance, Indow will not be held responsible for any costs incurred in repairing or replacing any product under this warranty including, but not limited to, transportation costs, costs of removal, disposal, installation or reinstallation. Approved care, cleaning and installaAon instrucAons are available on the Company's website at www.indowwindows.com/care.
Should you discover a defect of materials or workmanship, please contact Indow. Upon providing proof of purchase, Indow in its sole discretion, will repair or replace your defective Indow window insert(s). This limited warranty is effective for products purchased on or after September 1, 2017.
Fill out the form below to recieve a free and confidential intial consultation.